In terms of audio technology, we have come so far in just 100 years. From wire recordings first appearing in 1898 to now with Blu-ray and digital downloads, it is incredible the progress we have made.
If we told people in the past that we can listen to a particular person's music or speech from said person who has now passed on, it would blow their mind. Since this technology has become available, companies have been champing at the bit to develop and sell more.
One of those companies is JBL, which specializes in audio technology, specifically speakers and headphones.
JBL was founded in 1946 but has actually been around in one form or another since 1927, making it an incredibly experienced hand in the manufacture of audio technology, and you can see this in their products.
Considered some of the best on the market, JBL speakers are the end result of JBL's long production history, including developing the iconic loudspeaker systems used in cinemas, and they have innovative ways to market their product.
One of these features is the ability to link two external sound systems together to play the same sound at the same time. However, how exactly do you do that?
It's all well and good telling us we can, but we do need clear instructions on the how. That is exactly why I'm here today, and I will guide you through connecting your JBL speakers together.
Step-By-Step Guide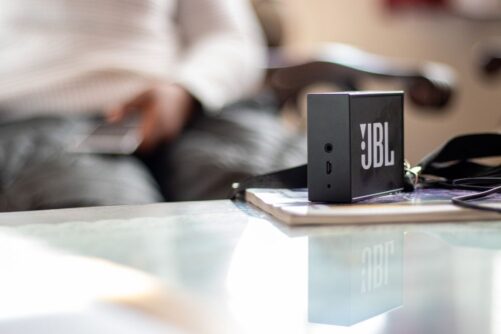 Number One
First, you want to gather together your two speakers. Make sure they are within one or two feet of each other – it doesn't make that much difference, just saves a little time later on when they are connecting.
Then, very simply turn on your speakers. That's really it for step one.
Number Two
Turn on Bluetooth on your source device. This is the device you plan to use to play audio through your speakers.
This can be a computer, a phone, a TV, or even potentially a car. You turn this on at the source, either by finding the Bluetooth options in settings or typing into the search option of your device 'Bluetooth' and clicking on it.
Make sure you have the list of optional Bluetooth connections up as well, as you need to check this list.
Number Three
Turn on Bluetooth on your JBL speakers. Next to the 'on' button, there is a button that has the Bluetooth symbol.
The Bluetooth symbol is the one that looks like Viking runes – because really, they are runes for 'H' and 'B' for Harald Bluetooth's name, but we don't need to go into that. But they also look like two triangles with their tops facing right and two lines pointing diagonally up and diagonally down on the left.
Once you turn the Bluetooth on, the two speakers should appear in your Bluetooth list on your source device.
Number Four
Now that you have Bluetooth switched on for all your devices – speakers and source device – it is time to connect them. Go back to the Bluetooth list you had open earlier in your source device.
Look through the list of possible Bluetooth connections to make and click on one of the speakers. This should begin the connection process. The speaker's Bluetooth light will begin flashing to let you know a connection is being formed.
After about 5 to 10 seconds, the speaker should be connected to the source device. The speaker will let you know that it is connected by blinking one final time or making a noise.
Number Five
One of your Bluetooth speakers is now successfully paired with your source device. Now is the part where we make a network of speakers playing from the same source.
Most every JBL speaker has a separate 'connect' button that is in the same area as the 'on' and 'Bluetooth' buttons, normally to the left of them. This 'connect' button is on every new JBL device and allows for connection between more than one speaker, creating a network of sound.
This button looks like a horizontal hourglass that has a small plus symbol in the top right-hand corner of the hourglass. When you have found this connect button on your first speaker – the one connected to your source device through Bluetooth – press it.
Number Six
Finally, press the connect button on the second speaker that you have – the one not yet connected directly to the source device through Bluetooth.
When you turn on these connect buttons, it should begin searching and connecting to the other speaker and the source device. This process can take up to half a minute, so be a little patient.
If it takes longer than this or your speakers don't connect, then go through the steps again and see what you could have missed. Once they are connected, use your source device to now play music or other audio.
Then, check that both of the speakers are playing this audio. If they are, congratulations! You've successfully connected two separate speakers to audio output.
Alternative Route to Connect JBL Speakers
While using physical buttons on the device is the "tried and true" route of pairing JBL speakers, the newer versions have another way to connect.
The JBL Portable app (previously called JBL Connect) is a downloadable application that can be used to pair JBL portable speakers. Compatible devices include the JBL Flip, JBL Charge, JBL Pulse, JBL Xtreme, and JBL Boombox.
With the JBL Portable app, you can connect two same-model speakers (for example, two JBL Flip 6 speakers) to one another and play your music in true stereo sound.
Even if your speakers aren't the exact same model (for example, a Flip 6 and a Charge 5), you can still connect them in party mode to crank up the volume with multiple speakers playing in tandem. As will be discussed later, there are some cross-compatibility issues between older and newer generations, since older generations have Connect+ which is incompatible with PartyBoost.
We won't go through the step-by-step guide on connecting two JBL speakers via the JBL Portable app — because honestly it is simple enough that it doesn't need to be spelled out. The first step is to download the JBL Portable app, then it's as simple as turning on your speakers, opening the app, and pressing the PartyBoost (or Connect) button.
How Many Speakers Can I Connect To One Source Device?
I will answer that question with another question: how many JBL speakers do you have? Shockingly, JBL speakers can form a huge network with either their Connect+ or PartyBoost technology.
Each of these two connection systems can have up to 100 speakers on a Bluetooth network, playing the same audio. That is insane.
Seriously, imagine the difference in applications of 100 speakers connected all to the same audio.
For instance, imagine you are having a party, and you've either got an enormous house or have rented out a big space, you could feasibly have a speaker in every room playing your audio and people could control the volume of that one speaker without affecting the overall sound.
So, say the main party room is loud and pumping, but there is a side room that is more mellow, and the volume of the single audio is low.
Another example, you have a haunted house or an escape room that you want the same sounds to play throughout, you could have a bunch of different speakers all connected to the same audio, but unlike most haunted houses or escape rooms, you can hide these without ruining the aesthetic. I know I'm pretty excited about these features.
However, the one problem with this is that the speakers can only be connected through one function: either the Connect+ or the PartyBoost functions.
A PartyBoost speaker cannot connect to a Connect+ speaker, they must be the same system. So, always check which speaker uses which before you buy.
Will Connecting Multiple Speakers Drain Their Battery Quicker?
This is a question that people ask a lot, and I can understand why. When you add things to your laptop, it will drain the battery quicker, say keeping Bluetooth on or playing a video game without connecting a charger.
This is because of the basic principle that adding something will require more power or energy to keep it efficient. Yet, with multiple speakers, you don't need to worry about this.
The speakers use Bluetooth as a requirement, so they are designed to not lose as much power from that function and having multiple connected speakers won't affect the speakers individually.
They are all connected through the source device, but they themselves are just playing one output as usual. It is the source device that will be managing all the additional Bluetooth requirements.
As such, your source device may be drained of power quicker than normal, but honestly it won't be much quicker, and your speakers will operate as normal.
Can having multiple speakers connected to one audio network stop my speakers from working?
No, absolutely not. If your speakers stop working because they are connected to multiple different speakers, either go through the process of connecting them and see where you went wrong or get a refund.
The JBL speakers do not only have the connectivity features between speakers, but are designed to have those systems. The Connect+ and the PartyBoost functions are as much a part of these speakers as the sound quality. And they should not affect performance or durability in any way, shape, or form.
As such, if you are finding these issues with your speakers, please find or consult a specialist or technician, as something is going wrong when it shouldn't.
How to Connect JBL Speakers to iPhone
This is a commonly asked question, but there is really nothing special about an iPhone when it comes to Bluetooth pairing.
For an iPhone, just follow the same steps that were outlined above.
On step two, you still just go to Settings > Bluetooth, and then find the devices listed there (assuming they are powered on). Continue working your way through the above steps and you should be golden.
---
For more JBL speaker troubleshooting, see:
---
Final Thoughts
The JBL speakers are an innovative piece of technology and come from a company with experience making distinct and pioneering pieces of audio tech.
The interconnectivity of the speakers and the unique experience of sound through a network of them is stunning, and really sets the bar high for other audio devices.
With this guide, you should find it easier than ever to set up your speaker network for whatever purpose that may be.
Whether it is business, leisure, or even a huge party, you should feel comfortable, secure, and impressed by the doors that are now open to you with this technology.