If you are looking for a higher-end portable speaker and don't mind throwing a good amount of change at it, then you have found the perfect article to narrow down your choices.
There can be a fair amount of false or misleading advertising online about the best speakers you can get for your hard-earned money. Thankfully, all of that goes out the window with a brief rundown of some of the more premier products out there.
To save you from buying a portable lemon, let us take a look at some of the better portable speakers on the market today. 
The brands being compared today span from a prodigious company in Denmark with the Soundboks Go to far bigger names like the well-designed JBL Partybox 310 or even the international tech powerhouse Sony, and its XP700 portable speaker.
These products all have their own individual strengths and weaknesses which we will go over in great detail below, from the quality of sound all the way to application features. 
---
~~~ Check Price: Soundboks Go ~~~
~~~ Check Price: JBL PartyBox 310 ~~~
~~~ Check Price: Sony XP700 ~~~
---
Quick Comparison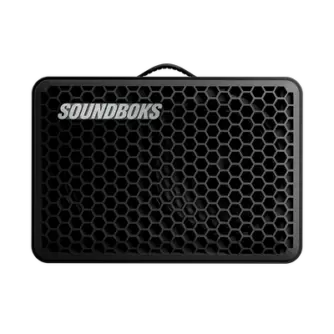 The Soundboks Go is an exceptional portable device which is reflected in its nearly $700 price tag. If the price doesn't deter you and you aren't overly concerned with aesthetics, there are few products on the market that could offer more. Its volume is second only to other Soundboks products, it has an unprecedented 40-hour battery life, and is more physically durable than George Foreman in the '90s. It also is far lighter and more portable than the other two "portable" speakers.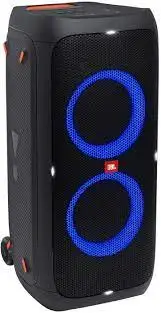 The JBL Partybox 310 currently sits north of $500 (at full MSRP), which is a fairly good price considering how good the audio quality of this product is. Its frequency response is great, its volume is quite loud and it has a considerable amount of features including karaoke. For those who want a bigger speaker with some flare, you will have a hard time beating this JBL product.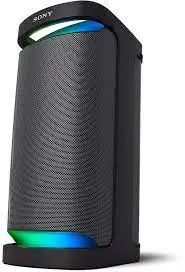 Sony has offered the cheapest product (under $500) with the XP700 though you wouldn't be able to tell from its appearance. While its audio profile falls short of the other two products, it has a solid visual appeal, a lower price tag, and a good amount of visual and auditory customization. The most impressive aspect of this device is its omnidirectional audio output which feels like it projects in every direction. 
Sound Quality 
Nothing is more important than the speaker's ability to put out loud, clear audio that feels like it reaches every corner of the room.
A good battery, impressive design, and customizable appearance all mean nothing if the speaker sounds like a gramophone that's been sitting in storage for fifty years. While all aspects of a speaker are certainly important, in my subjective view nothing is more important than a speaker's sound quality. 
The Soundboks Go does not disappoint the Soundboks name when it comes to its decibel level. Those familiar with Soundboks are acutely aware of just how loud these speakers can get and the newer, more portable option is no exception at 121 decibels.
Its audio quality is uninspired and can sound quite bad in certain EQs, though the sound is as thumpy as any bass junkie would want. Consumers will struggle to hear treble as well as they might prefer, though there is an EQ to try and suit your personal preference. 
If we take a peek underneath the durable exterior we find two 72 Watt class D amplifiers, a ten-inch woofer, and a single one-inch silk dome tweeter. The extra woofer found in previous iterations of Soundboks products was likely taken out in an effort to promote portability. Its frequency range is listed at 40Hz – 20kHz. 
The Partybox 310 has an exceptional sound profile and impressive volume. This product takes no shortcuts with its audio quality, producing a deafening 106 decibels with a minor amount of static towards the max volume.
It's one of the few portable speakers that are able to dig deep into the lower levels of bass, creating a very thumping and pleasurable sound for any audio enthusiast. Its biggest setback is that the directionality of the audio can feel a bit narrow at times, though it isn't anything truly awful. 
Digging deeper into the product it comes outfitted with two 6.5-inch woofers and two 2.5-inch tweeters. It has a frequency response of 45Hz – 20kHz according to JBL's listed specs. 
Finally, the Sony XP700 falls into the middle of the pack with its fairly standard audio ability. The decibel level hits around 99 at its peak with a moderate amount of interference at max volume.
The soundstage feels like the best of all three due to its omnidirectional capabilities which are in large part due to the placement of its internals. While it does produce some alright sounding bass, the highs are a bit restrained and the mids can feel overbearing. To its credit though, it does offer a customizable equalizer to alleviate this a bit. 
Underneath the futuristic outer layer, you will find three 6-centimeter Tweeters, one 5-centimeter rear tweeter, and two 17-centimeter woofers. 
Verdict – The Partybox 310 is simply too well-rounded to be beaten by its competition. If you are strictly in it for max volume, however, go with the Soundboks Go. 
Design & Durability 
When portability is included in the marketing of a product then it is the duty of the manufacturer to make sure the speaker can stand up to unfavorable conditions. So while everyone appreciates the sleek, ergonomic design of some of the more well-known brands – we come to rely on the durability of the more robust and pragmatic exteriors.
In this category, we will not only go over how pleasing a speaker is to the eye but also how well it will do when transported around and exposed to unforeseen elements (weather, water, your drunk uncle Jim, etc). 
The Soundboks Go looks like it was made for some dystopian military in a Bradbury novel. This is actually a compliment, its design is fairly straightforward and ordinary though this product has been made to survive most conditions relatively unscathed.
The thick exterior is complemented by a clever silicone rubber bumper that helps keep the scratches and chips to a minimum. If that doesn't sell you on it, it has a remarkable IP65 rating to prevent water and dust from sneaking into the more delicate parts of its interior. 
It is going to be the least cumbersome of the three, weighing in at twenty pounds and measuring out to 18 x 12 x 10 inches overall. If you feel like throwing fifty dollars away you can also purchase an optional carrying strap for improved portability. 
Moving into JBL territory, the Partybox 310 has a cool, attention-grabbing design featuring LEDs that will impress guests and friends. Its metal grille feels resilient and tough while the plastic body feels accommodating and thoughtful with an extending handle and rolling wheels.
It has an IP4 rating to prevent water, though this is only when it is used vertically. Overall, this product is a well-designed piece of tech with moderate amounts of environmental resistance. 
This product is the bulkiest of the three, weighing in at a knee-shaking 37 pounds and 27 x 12.8 x 14.5 inches overall. 
The XP700, like most Sony products, has a visually stunning design that accentuates how unique it is to other portable speakers. The exterior is uniformly plastic besides the metal grille and the material feels worthwhile overall.
The LEDs are beautiful and make the device feel like some illuminated monolith from the future. Unfortunately, this device feels the most fragile overall and offers little in the way of dust or physical resistance. It does offer an IP4 rating which is becoming standard for speakers meant for portability. 
The XP700 is equally as heavy as the Partybox 310 at 37 pounds and sits around 12 x 27 x 14 inches give or take. Unfortunately, the topside handle does not feel nearly as accommodating as the telescopic variant found on the JBL product. 
Verdict – Subjectively, I would go for the Soundboks Go due to its easier portability and rugged design. Those looking for a more visually stunning product might choose the alternatives. 
Battery 
Imagine you and your friends go camping and you decide to take your big, beautiful portable speaker only for it to die on you the first evening. Scenarios like this are why battery life is so carefully considered by thoughtful customers looking to get a good product.
It's also important to make sure that your product can conserve energy on its own through "Eco modes" or power-saving features that shut off an idle device. Lastly, one should think about how long a device will take to charge before throwing down money at it. 
The Soundboks Go is the most expensive product on this list by far, though this isn't without reason. The battery they have put into this product is unbelievably long-lasting and can be played at a much higher volume for far longer than any other device in this category.
This product can last forty hours at fifty percent volume and up to ten at max volume. Its charge time is a speedy 3.5 hours and despite it not having power-saving features it is hard to imagine any other product this size beating it in battery life for a long time to come. 
While the JBL Partybox 310 cannot hit the forty-hour mark, it does possess some decent battery life along with over power-saving features. Its battery life sits somewhere between 17-18 hours at half volume and only takes a little under three hours for a full charge. Additionally, it comes with a power-saving feature that shuts it off after a few minutes of inactivity. 
The Sony XP700 is no slouch either, though still sits well behind the Soundboks Go. While it has a listed battery life of 25 hours, separate testing has measured its battery life to sit somewhere closer to seventeen hours. It comes with several power-saving options including an auto-shutoff and takes just a bit over two hours to reach a full charge. While it lacks the battery of the Soundboks, its charging time is very impressive. 
Verdict – The Soundboks Go simply is remarkable in terms of battery life and it's hard for other products to measure up. 
Features & Software 
The final layer of any good speaker is the added features that come from either the product itself or the accompanying mobile app that almost all speaker brands insist on.
The most important are typically things like Bluetooth compatibility and multispeaker connectivity. Although, EQs and other minor touches cannot be overlooked by some consumers.
To give the pickier customers a better understanding of what they are purchasing, we will be going over every product in-depth. 
The Soundboks Go has a solid list of features although it lacks the input ports that many would consider necessary to be considered impressive. It comes with Bluetooth functionality (5.0), Multispeaker connectivity for Soundboks Gen. 3 and Soundboks Go speakers, TeamUP or SKAA, and a loop strap.
The software is capable and offers EQ presets and customization, in-app volume, power on/off, and the ability to auto-connect Bluetooth devices. As far as cable connections go, you get one 3.5mm auxiliary input and nothing more. 
The JBL Partybox 310 offers a lengthy amount of customization and features. It has Bluetooth compatibility (5.1), karaoke functionality, LED light show, multispeaker connectivity wirelessly or through the aux input, sound effects (air horn included), an illuminated control panel, USB port, and a 3.5mm auxiliary input.
The app offers further customization including LED customization, track switch, and karaoke controls. The app is competent at what its purpose is though some folks have complained about its inability to connect at times. 
Finally, the Sony XP700 stays competitive with an unsurprisingly long list of features which is pretty typical for the larger brand. It has 5.0 BlueTooth compatibility, LED lighting (with several different lighting options in-app), Mega Bass/bass boost, quick charge (10 minutes of charge, 3 hours of playback), Karaoke mode and functionality, multispeaker compatibility, 2 USB ports, vertical or horizontal placement and is compatible with the Sony Music app as well as Fiestable.
The mobile app isn't groundbreaking but it does what it is supposed to and offers more visual interactivity. 
Verdict – Draw Between the XP700 and Partybox 310 which both offer a plethora of features. 
Conclusion 
If I had to pick a winner of the three it would be close to impossible, but the loser would be the XP700.
While it isn't a bad device, it simply doesn't offer enough in comparison to the others to stand out besides a lower price tag.
For those looking for audio quality and visual appeal, go with the JBL Partybox 310.
If you want to deafen yourself for up to forty hours without fear of rain or dust damage, then the Soundboks Go is a great product. 
~~~ Check Price: Soundboks Go ~~~
~~~ Check Price: JBL PartyBox 310 ~~~