If you want to be just as famous as Zach King, Baby Ariel, or Loren Gray, the first step is getting the proper lights so people can see your moves.
We could say that these lights are functional, have high lumens, and are user-friendly, but that's all the boring stuff. We're going to tell you what TikTok lights are, the best kinds, and which ones you need to make popular TikTok videos that skyrocket into thousands or even millions of views.
What are TikTok Lights?
TikTok lights aren't real. There's no such thing as TikTok lights. Why? Because these lights existed before TikTok. But TikTok celebrities are what have made them so popular. They've literally created this market from scratch.
If popular opinion is real, and we think it is, then the best TikTok lights are:
Colored LED Strips
Ring Lights
White LEDs
Softboxes
We'll cover this in more detail in the next section, but anyone looking for TikTok lights will find one of these three. The colored LED strips are by far the biggest right now. Many of them sync with music (an absolute necessity!) and they light up your room with bright blues, greens, purples, reds, and any other color you want. It's like owning a rainbow.
Why do I need TikTok lights?
Well, that's simple. The top reasons are:
You want people to see you
You want specific colors
The other top TikTokers are doing it
It just looks better
Technically any light you use with your videos is a TikTok light, but we want you to have the best. You have our promise that we're going to cover the biggest, most popular lights used now.
1. Colored LED Strips
Colored LED strips are the hottest lights now with ring lights being a close second. Here we'll be talking about what makes them great and why they all deserve a spot in your videos. Maybe you can only afford one now, but consider all of these for later.
Best for:
Music videos
Funny/dramatic moments
Just about everything
I doubt you can find a top TikToker who hasn't used these lights at least once. These light strips change color with the push of a button. Most of them have a remote control and you can choose green, red, blue, and any other color. Many even sync with music.
Ever notice that some TikTokers can quickly change the color of their video? That's not a computer effect. These lights are bright and fill your room with whatever color you want. If you have a remote, then you can change the light at any moment for dramatic effect or some extra laughs.
These are the top TikTok lights now and we highly suggest them. If you're serious about this, then these lights are the hottest thing right now.
2. Ring Lights
Best for:
Spoken videos
Stationary light that goes anywhere
Music videos
Before TikTok, ring lights were known as YouTube lights because all the top YouTubers used them (many still do in fact). However, they've been hijacked by TikTok and are perfect if you want a strong, stationary light.
As you might guess, these lights are shaped like a ring and are usually on a stand. Some of the best even have a holder for your phone. Talk about convenient! Seriously, these lights are easy to use and let you shoot nearly anywhere. Some even change color, but that's not a primary feature.
If you want to sit and talk, have a strong light, or need perfect lighting in other environments (meaning outside your bedroom), then these lights are what you need.
3. White LEDs
Best for:
Spoken/music videos
Affordable lighting
Strong lights
You can get white LEDs on a strip, as light bulbs, or as tube lights. The most important thing here is that they're white, bright, and really show off how you look. Unlike colored lights that can change at a moment's notice, these are meant to brighten your room so everyone can see you.
If you just want a strong or affordable light that makes it easier for people to see you, then these are perfect. They may not be quite as useful as colored LED strips or ring lights, but it all depends on your genre. These lights work best when what you're saying is more important or if the lighting in your bedroom is too dull.
4. Softboxes
Best for:
Spoken videos
Ambient lighting
Music videos
Softboxes are soft enclosures that go around stronger lights. This focuses the light on a certain point so that it's bright and vibrant. Many people compare softboxes to ring lights and it makes sense. They serve almost the same purpose. The light up a spot so everyone can see what's going on.
The major difference (aside from softboxes not having a phone holder) is how direct the light is. Ring lights are better for focusing the light on a certain point like your face while softboxes are better for spreading the light around a larger point or the whole room.
Ring lights are probably better for most TikTokers unless you have a studio space. However, softboxes are great too, and shouldn't be ignored.
What To Look For
Since each light is different (you can't expect colored LEDs and ring lights to have the same features) we're just going to cover the best features overall and tell you what they apply to. We promise this is easy.
1. Remote Control
This is an absolute necessity with colored LED strips. The controller lets you change color, warmth (or the brightness), and many other features. Many ring lights have a remote control as well so that you can easily change the light warmth and turn the light on and off.
2. Phone Holder
This ring light feature is a must because it makes it easier to shoot your videos. This goes right in the center of your light, ensuring you look your best as you sing, dance, and talk to the camera (your phone).
3. Waterproof
You might be confused about this one (especially if you only shoot inside), but waterproof TikTok lights are ideal if shooting outdoors. Many colored LED strips have this feature, but make sure the lights specifically say it. You don't want to ruin your lights by using indoor LEDs outside.
4. Music Sync
Many TikTok lights sync to the music and change colors with the beat. You can usually switch between manual control and auto-syncing, which allows you to choose the best color for your video.
5. Apps
Some TikTok lights have an app. This lets you change the color, brightness, and other features right from your phone. You often get more control than with a standard remote, and besides, who doesn't want to use their phone to control lights?
What to Buy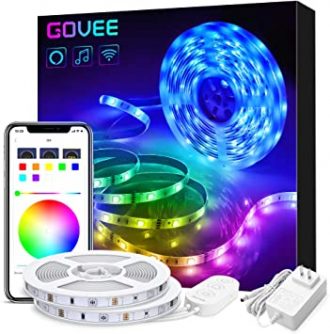 Here's a premium TikTok light that's ideal for any professional video maker. This comes with 32.8 feet of LEDs that can easily plaster your whole room. This light comes with so many features it's hard to know where to start. First off, this has a dedicated app where you can switch between multiple settings.
You can choose a custom color, set a timer, make a scene, or adjust brightness all through the app. Plus, you can do it from anywhere. As long as your phone has an internet connection you can turn the lights on and use any of the effects.
They also automatically sync to music. They change color based on tempo and volume. Faster songs will make the lights go crazy! You can also keep that at a specific color if you would prefer that.
Have a smart assistant like Alexa or Google Home? You can use that to control the lights as well. Alexa can change the color and brightness with a voice command.
How do you install TikTok lights? These are simple. They have a strong 3M adhesive on the back. Simply peel off the paper backing and stick the LED strip wherever you want (yes, anywhere!). It's so easy and can be done in minutes.
Pros:
Intuitive app with lots of features
Syncs to your music
Works with Alexa and Google Home
Cons:
Doesn't support 5G phones
The app sometimes lags, but this is rare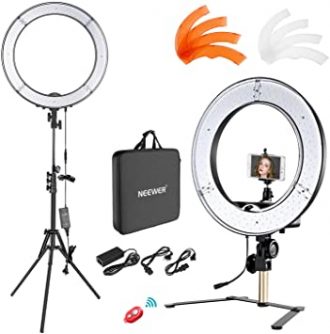 If you're looking for a ring light, then look no further than Neewer's premium offering. This has all the features you need to make professional TikTok videos. The ring light itself is 18 inches, while the stand and tripod are 61 inches. It comes with a white and orange color filter that only takes a second to put on the light.
You can easily adjust the brightness and the light is clearer than other ring lights on the market. You get a whole carrying pack so you can easily carry this wherever you want to go. The "hot shoe" adapter in the center of the light is compatible with nearly all DSLR cameras (if you're going that route) and phone holders. No matter how you want to record yourself, this can hold your camera while you sing, dance, and entertain your audience.
If you want a strong, concentrated light, then the Neewer Ring Light is the way to go. It's on the expensive side, but it's brightness, multiple features, hot shoe adapter, and filters make it the best choice.
Pros:
Large and very bright light
The stand is adjustable and easy to pack
The adapter can hold both phone holders and DSLR cameras
Cons:
Only two colored filters to choose from
Might be too bright for smaller rooms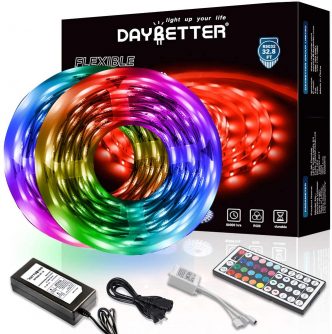 Daybetter and Govee are at the top when it comes to the best colored TikTok LED lights. While it lacks some of the more intuitive features of Govee (like the app or easy RGB color choice), it has some other features that might be better for your needs.
Unlike Govee, this comes with a dedicated IR remote. This 44-button remote has many dedicated color selections, which makes it easy to switch between one color to the next, and you can turn the lights on and off with ease. While there is an RGB feature to get a specific color, it can be a little tedious. It works, but it might take a few minutes to get the color you want.
One of the best things is that these lights can be cut. That's right. You will see a line every three LEDs that means you can cut the light. This makes it much easier to wrap around your room, odd spaces, or just to fill your room without having to tuck away lots of other lights you'll never use.
The LEDs are simple to install. Just like with Govee you remove the paper backing and stick the strong 3M adhesive to any wall, counter, or ceiling where you want to install the lights. It's simple and only takes a few minutes.
Pros:
Dedicated IR remote to easily change color or turn lights on and off
Installation is simple and only takes a few minutes
The lights are cuttable so you only use as much as you need
Cons:
No app
Manual color changing is a little tedious, but not difficult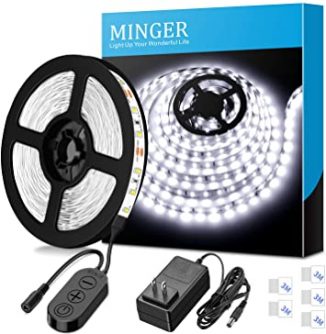 If you want a more affordable option (or simply don't want color changing), then the Minger white LED strip lights are perfect for your needs. These are bright enough to light up your room so that everyone can easily see you. The lights aren't obnoxiously bright either, so you can still see easily when they're on.
Like with the Daybetter set, these LEDs are cuttable. Every few LEDs you will see a line where you can cut the LEDs. This ensures you only use as much as you need and you can put the rest away. While there isn't a dedicated remote, there is a switch to turn the lights on and off and to adjust brightness.
While you don't get the color changing features, app, or remote like with the other LED strips here, this is an affordable option that will brighten up your TikTok videos and it's easy to install and use. This has the same strong 3M adhesive of the other lights, so you can expect the lights to stay in place. It also has adhesive clips to hold the wires in place.
Pros:
-The lights are cuttable so you only use what you need
-You can dim or brighten the LEDs
-Very bright, which ensures everyone can see your videos
Cons:
No app or remote
The clips may need to be reinforced
What brand of LED lights do TikTokers use?
Technically, they can use any brand. Nobody is going to figure out the brand of lights you use, or the price you paid. So, there is no need to overpay or try to figure out the exact lights that your favorite TikToker prefers.
Can LED strips catch fire?
This is theoretically possible, but highly unlikely. LED lights stay cool, even with prolonged use. So, as long as you are not subjecting the lights to flammable conditions, there should be no concern about starting a fire.
Final Thoughts
If you want your video to pop, then you need lights. Many people are using colored LED lights, like the Govee and Daybetter LED strips, but you can also use white LED strips like the Minger or even the Neewer ring light for a strong, dedicated light for your videos. These lights ensure everyone can see you, plus they give you more to play around with.
If you're serious about shooting the best TikTok videos, then you need lights. Try any of these and you'll immediately see a difference.