Bose is undoubtedly one of the most trusted brands in the world of audio equipment. After all, when you buy a Bose product, you know that a top-notch audio experience is in your near future.
This is exactly why many audiophiles go back to this brand time and time again for their speaker needs. 
However, this stellar reputation also presents a problem when looking through the Bose lineup. You know that the odds are you'll get great audio from just about any of their products.
But what if you're looking for the best audio experience? How are you supposed to know which one truly reigns supreme? 
Well, you've come to the right place!
In this article, we'll look at some of the most popular Bose audio products to help you determine which will give you the best audio experience. More specifically, we will compare and contrast the Bose TV Speaker vs. Bose Soundbar 300, 500, & 600.
Let's get started!
---
~~~ Check Price: Bose TV Speaker ~~~
~~~ Check Price: Bose Soundbar 300 ~~~
~~~ Check Price: Bose Soundbar 500 ~~~
~~~ Check Price: Bose Soundbar 600 ~~~
---
Overview of Bose TV Speaker and Bose Soundbar 300, 500, & 600 
We have a lot of Bose speakers to cover here, so let's begin by briefly touching on what makes each product unique. 
Bose TV Speaker
We'll start with the Bose TV Speaker. If you're looking for the most affordable and compact option of the four choices we have here today, this is it.
Probably the simplest way to enhance your TV audio experience, the Bose TV Speaker boasts "Dialogue mode," which analyzes and elevates the vocals of whatever you're watching on screen so you can hear the dialogue more clearly. 
Bose Soundbar 300
If you're willing to pay a little extra for a few more features, though, there's the Bose Soundbar 300.
Slim and stylish, this soundbar comes out with some pretty impressive sound for only being a few inches longer than the TV speaker. Moreover, this soundbar offers Bose Music App, Voice Assistant Compatibility, and WI-FI connectivity – all of which are missing from the TV speaker. 
Bose Soundbar 500
Stepping up slightly in price again, we have the Bose Soundbar 500.
This model has many of the same key features as the 300, but with one crucial difference: the addition of ADAPTiQ audio room calibration. This feature considers the layout of the room it is in and optimizes its acoustic performance accordingly. Essentially, ADAPTiQ gives you the best listening experience possible for your space. 
Bose Soundbar 600
It's finally time for the last Bose soundbar on our list – the Bose Soundbar 600.
This model may share some similarities with the others, but what makes it really stand out is that it is the only one with Dolby Atmos sound and HDMI eARC capabilities. This makes it a real draw for those looking to bring cinema-like immersion to their home theater setup. 
---
Comparing Bose TV Speaker vs. Bose Soundbar 300, 500, & 600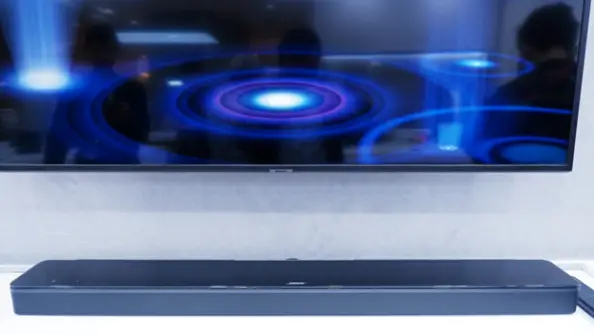 Now that you have a better idea of each type of audio setup and what makes them unique, let's start getting into some direct comparisons. We will look at the design, connectivity, voice control, and, of course, sound quality of each model and see how they stack up against each other. 
---
Design 
First up, the design. Sure, this may not have much to do with your overall audio experience, but if you have limited space or have a low TV screen, then this is something you should consider. 
Here are the dimensions of each product: 
Bose TV Speaker: 2.2″ H x 23.4″ W x 4″ D 
Bose Soundbar 300: 2¼" H x 27½" W x 4″ D 
Bose Soundbar 500: 1.75″ H x 31.5″ W x 4.0″ D 
Bose Soundbar 600: 2.2″ H x 27.3″ W x 4.1″ 
As you can see, the Bose TV Speaker is your most compact option by a few inches, making it an excellent choice for small spaces. But that being said, each product only stands about two inches tall, which, in most cases, should be low enough not to block your view of the TV screen.
And even if it manages to be a problem, you always have the option of purchasing the Bose Soundbar Wall Bracket (unfortunately, it's not included with any of the models). 
Winner: Tie 
---
Connectivity 
In the not-too-distant past (well, at least for some of us), you only had one option for connecting your TV to a speaker: a wire. These days, however, there are various choices available – and some of the Bose models we're looking at here have more options than others. 
This is one of the biggest issues for some people regarding the Bose TV Speaker. This model offers Bluetooth connectivity, HDMI ARC, Optical, and even an AUX input, but no WI-FI.  
Yes, you read that correctly – you cannot connect to your Bose TV Speaker using a WiFi connection. This may not be a huge deal to some people, as the Bluetooth connectivity is there, but if wireless is your go-to, you'll be better off with one of the soundbars. 
All of the soundbars come with WI-FI on top of just about all of the same connectivity options as the TV Speaker, so you're covered there. This means you'll have a variety of ways to connect them with all of your favorite streaming services, like Spotify and Apple Music (they have Spotify Connect and Apple AirPlay 2 compatibility as well!).  However, they don't have an AUX input if that's important to you. 
Winner: Bose Soundbars 
---
Voice Control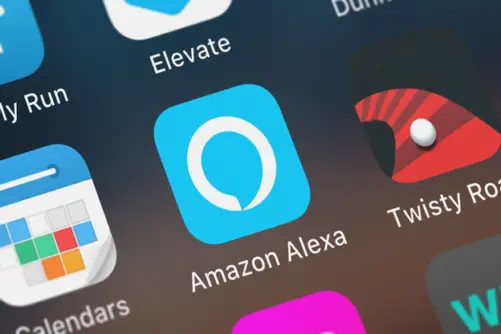 This is another factor we wouldn't have worried about in the past!
However, the ability to control electronics with your voice is always a nice feature that can make them significantly more accessible to consumers. Besides, there's no doubt that it's convenient when you've lost the remote! 
So, here is another significant difference between the Bose TV Speaker and the soundbars: the TV speaker does not come with voice control technology. So, if you decide to go with this one, keep tabs on that remote! 
The soundbars, on the other hand, give you two voice assistants to choose from: Alexa and Google Assistant. This means you can control your soundbar without lifting a finger. 
Plus, if you lose the remote and aren't a fan of the voice control, you even have a third option: the Bose Music app, which isn't available for the TV Speaker. With any of these soundbars, you won't lose control of your audio again! 
Winner: Bose Soundbars
---
Sound Quality 
Now, onto what you've been waiting for: the sound quality. Not only are there some differences between the Bose TV Speaker and the soundbars, but there are also some differences between the soundbars themselves.
So, let's get into it. 
We'll start with the Bose TV Speaker. There's no doubt that you'll get some decent sound out of this thing, as it comes with two full-range drivers and a center tweeter. The angled drivers give you wide, spatial sound, while the tweeter is perfect for getting that crystal-clear dialogue from TV shows and movies.
And then you still have the option to enable the "Dialogue mode" feature, which enhances speech even further. 
You can even take the bass up a notch with the "Bass" button on the remote. Which, despite its size, still manages to sound quite deep and rich on the TV Speaker. 
However, if you're looking for even more out of your audio experience, then it's safe to say that a soundbar is the clear choice. Let's take the Bose Soundbar 300, for example. Instead of two full-range drivers, you're getting four, which work to separate left and right sounds to help give a more immersive audio experience. Plus, it still has that center tweeter, which helps make the dialogue clearer.
And it only gets better with the Bose Soundbar 500 and 600. 
If you want a truly immersive audio experience, go with the Bose Soundbar 600. Not only are you getting five total transducers in this thing, but you're also getting Dolby Atmos sound and exclusive TrueSpace technology. Bose TrueSpace analyzes whatever content you're watching and upmixes non-Atmos signals to give you a multi-channel experience. This means that your stereo and 5.1 audio content will feel more immersive. 
Ultimately, if you're after the best possible sound quality, then there's no question that any of the Bose soundbars would be better than the Bose TV Speaker. 
Winner: Bose Soundbars 
---
So, Which Should I Go With: Bose TV Speaker or Bose Soundbar 300, 500, or 600? 
Now that we've gone over the Bose TV Speaker and soundbars, it seems like the choice is clear: any of the Bose soundbars will give you better connectivity, voice control, and sound quality over the TV Speaker. 
However, that doesn't mean there is no place for the Bose TV Speaker. For example, if you're on a budget and want simple auxiliary sound, this speaker will do the trick. It will still take your TV audio experience to the next level – just not as much as the Bose soundbars would. 
And if you're genuinely looking for a speaker with the best audio experience, then the Bose Soundbar 600 is the best choice. With Dolby Atmos sound, TrueSpace technology, and five transducers, this soundbar will not disappoint – especially at its current price point. 
If you're still not sold on it, though, you can take a look at a comparison of some of the most popular Bose Soundbars. This will give you more details on these models and help you decide. 
Whichever you decide to go with, though, one thing is for sure: it's hard to beat a Bose speaker! 
~~~ Check Price: Bose TV Speaker ~~~
~~~ Check Price: Bose Soundbar 300 ~~~
~~~ Check Price: Bose Soundbar 500 ~~~