Summary
After buying and testing the Birdie personal safety alarm and the Hootie personal keychain alarm, we are unable to make a strong recommendation of one pocket alarm over the other. Both devices are reasonably priced, stylish, and perform as advertised.
For anyone shopping for safety items for women, we confidently recommend both the Birdie and the Hootie keychain alarm. 
In deciding to purchase one versus the other, the only noteworthy differences involve color options and the fact that Birdie has a nicer, higher quality keyring.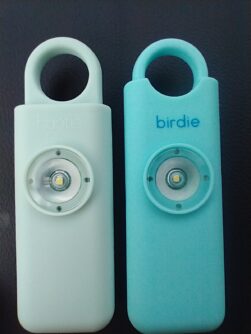 ---
Features & Benefits of Both Birdie & Hootie
Birdie, which also does business as "She's Birdie," describes itself as a "personal safety alarm." Hootie is marketed as a "personal keychain alarm." 
Both devices are simple — add it to your keychain, pull the pin in case of emergency, and count on the ultra-loud siren and strobe light to protect you in an unsafe situation. These products are marketed as domestic violence keychains, and are a great tool to have in the event of an emergency.
Each keychain alarm has a siren that emits a very loud (130 dB) noise. I tested both the Birdie and the Hootie alarm in an enclosed environment. And I can confidently say that these devices are loud. In a remote outdoor area, these alarms should be loud enough to make a would-be attacker nervous. In an enclosed indoor area, they are loud enough to make your ears ring.
Some users have complained of the siren being too quiet. Realistically, this is a direct-to-consumer, sub-$50 product. It's true that the siren is not deafening. So if you are expecting an alarm that will burst eardrums, you may be disappointed.
Each device also has an LED strobe light. While the lights are decent quality, they were not as bright as I had expected. As a personal safety device, you would expect these strobe lights to be intense enough to disorient a would-be attacker. Instead, the lights are bright but seem like they would be a mild annoyance rather than a strong deterrent.
Additionally, each device comes with a keyring to attach to a keychain. The Birdie alarm comes with a stylish, sturdy brass ring that screws together. The Hootie alarm comes with a carabiner clip that is lightweight and flimsy. 
If the keyring is a selling point to you, this is the only significant difference between the two devices. The brass ring on the Birdie alarm is much nicer and higher quality, but also very large. The carabiner on the Hootie alarm is cheaper and simpler, but also a smaller size that works better for most keychains.
---
Similarities between the Birdie Personal Safety Alarm & the Hootie Personal Keychain Alarm
Before even unboxing these keychain alarms, the similarities were obvious. Birdie and Hootie are similar names, to begin with. Both products came in stylish, pastel-colored boxes with trendy slogans and logos. Birdie uses a line art bird as a logo, and Hootie uses a line art owl logo in a similar style.
If it matters to you, both of these pocket alarms are also made in China.
Both the Hootie and the Birdie are made of an ABS plastic that is durable, yet feels soft to the touch and is easy to grip. As mentioned above, they also come with keyrings.
Retail prices are the same for both products. And each company regularly has sales and coupon codes available. Additionally, both products are often available with bulk discounts when ordering multiple items.
Overall, the two products are nearly identical. The size, style, materials, marketing, and features are essentially the same for both Hootie and Birdie.
Design
The design of both products is excellent. Considering they are safety devices, they have a sleek style that actually looks good on a keychain. The color options (6 total) for Hootie are black, lavender, mint, navy, red, and white. Birdie color options (10 total) include charcoal, aqua, coral, indigo, lemon, lavender, blossom, coconut, raspberry, and pride.
Both personal alarm keychains are made of a durable plastic that has a moderate degree of drop protection.
Each device is powered by small watch batteries. These batteries will last for about 40 minutes of alarm time. In rest mode, the batteries should last many months without needing to be replaced. The batteries are not rechargeable, but are simple to replace.
In testing these products, we found that the necessary force to activate was equal for both alarms. Both Hootie and Birdie have a pin at the top of the device, which is pulled to activate the alarm, and can be re-inserted to deactivate the alarm. Because a moderate amount of force is needed to turn on the alarm, there should be no issue with accidental "false alarms." At the same time, the devices activate easily enough to be used by people with weak hands or arthritis. In other words, the activation force is nearly perfect.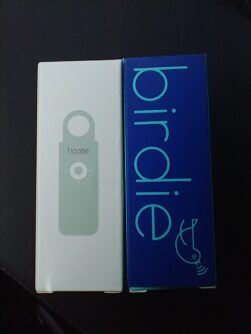 Warranty
Both She's Birdie and Hootie provide a 1 year warranty. So, this doesn't help us break the tie, either. Additionally, each company offers 30 day returns, as long as the product and packaging are undamaged. And both companies have good customer service, with almost no reports of issues.
Alternative self defense alarms & keychain sirens
There are other similar self defense alarms available. Because keychain alarms are inexpensive, and because they can be life-saving in a worst case scenario, I really wouldn't recommend looking for an off-brand alarm.
Both Hootie and Birdie work reliably, have great user feedback, and are easy to use. Many of the cheaper competing products have user complaints about a pin that is too easy to pull, resulting in false alarms. For this reason, it doesn't seem like a smart way to save $5 or $10.
Final Thoughts
Both Birdie and Hootie keychain alarms are great personal safety devices for women. If you prefer an oversized, stylish keyring, the Birdie personal safety alarm is a better value. If you need a smaller keyring, or don't plan to use the provided carabiner clip, the Hootie personal keychain alarm is just as good.
You can purchase these products directly from the manufacturers [ShesBirdie.com] [GetHootie.com], or via Amazon [Birdie link] [Hootie link]. If you plan to purchase multiple, you may qualify for a bulk discount. And if your order isn't time sensitive, it may be possible to find these items on sale.
Having tested these products, we can safely say that either product is a good value. They work great as a gift, and more importantly they function well as safety items for women.