There's no doubt that AirPods revolutionized the concept of earbuds. While you once had to contend with wired earbuds, which constantly caught on things and quickly tore and broke, the invention of wireless earbuds solved all these issues. Beyond that, the AirPods Pro, in particular, offers incredible sound quality and convenience.
When you use such expensive earbuds, it can be frustrating when they suddenly stop playing sound. Especially when the AirPods are charged and show as connected to their device.
Luckily, troubleshooting this glitch is very simple. This article will cover some of the most common ways to fix connected AirPods that won't play sound.
---
How To Fix Connected AirPods With No Sound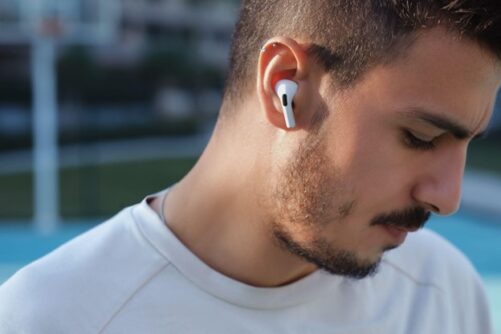 It is a common issue that AirPods will successfully establish a Bluetooth connection with another device but won't play any sound.
A sound problem is usually the result of a bug and can be resolved with simple troubleshooting methods like resetting the AirPods, charging them, and, at worst, factory resetting them.
Here are some of the most common ways to fix AirPods that won't play sound.
Reset AirPods
As electronic devices run, they can sometimes encounter errors that keep them from functioning correctly. When you restart your AirPods, it wipes the errors and allows your AirPods to work correctly again. Best of all, it only takes a few simple steps to restart them.
Put your AirPods in the case and close the lid.
After waiting 30 seconds or more, open the AirPod case.
Use your phone or tablet to navigate to Settings > Bluetooth.
Press the 🛈 next to your AirPods, and click 'Forget This Device. Tap to confirm.
Hold the setup button on your AirPods case until a light flashes.
Set AirPods and Bluetooth device next to each other until they connect.
Force Hard Restart
If resetting your AirPods didn't work, you can also try restarting your phone to see if it resolves the issue. As mentioned before, devices can sometimes run into errors that cause them to malfunction — and restarting them is highly effective at resolving these errors.
This troubleshooting method is helpful for almost all device issues and can even be used to fix malfunctioning AirPod microphones. You can restart your iOS device or Android device with a few simple steps.
iPhone (iOS 16) (X, Xs, Xr, 11, 12, 13, 8, SE 2nd Generation)
Quickly press and release the volume up button.
Quickly press and release the volume down button.
Hold the side button until the Apple logo appears, then release the button. Your iPhone will restart.
iPhone 7
Hold down the volume down button and the power button simultaneously.
Release both buttons when the Apple logo appears. Your iPhone will restart.
iPhone 6 / SE (1st Generation)
Hold down the home button and the power button simultaneously.
Release both buttons when the Apple logo appears. Your iPhone will restart.
Check That Your AirPods Are Connected
Sometimes, mistakes happen. This is especially true with Bluetooth devices like AirPods since they can sometimes unexpectedly connect to the wrong device — or not connect at all. To check that your AirPods are connected to your device, you can navigate to the settings with a few simple steps.
Settings > Bluetooth Settings
Check to ensure that your AirPods are shown in the list of devices.
Charge Your AirPods
When your AirPods are at low battery, they may start malfunctioning. Resolving this issue is as easy as allowing your AirPods to charge.
You should charge them for a minimum of half an hour and check to see if the problem is resolved. You should also check to make sure that both AirPods are charging correctly.
Clean AirPods
As you use your AirPods, they can accumulate grime like dust, dirt, and earwax. Sometimes, this can interfere with their ability to charge or play music.
Cleaning them is as simple as using a dry, lint-free cloth to wipe the microphone and speaker meshes. You can also use a dry cotton swab and a clean soft-bristled brush to get the speaker meshes extra clean. According to Apple, you can also use a slightly damp cloth, but don't use wet or abrasive materials to clean the AirPods.
Update Software
If your iOS hasn't been updated in a while, strange bugs can sometimes result — including issues with AirPods. Updating the software is extremely simple, though, and has the added benefit of improving the performance and security of your Apple device. There are two ways to update your software.
Update Your Software Through iOS
Settings > General > Software Update
Tap Download and Install.
Your phone should be plugged in and connected to WiFi for the best experience while updating.
Update Your Software Through Your Windows PC
Launch the latest version of iTunes.
Connect your iPhone to your PC using your lightning cable.
Summary > Update
Ensure you have a stable internet connection, and don't disconnect your phone from the PC until the update is finished installing.
Reset Your Network Settings
If connectivity issues occur with your network, it can cause your AirPods not to play sound. These frustrating connectivity issues can be resolved by resetting your phone or tablet's network settings, which only takes a few simple steps.
It's important to note that you will lose all network settings, including Bluetooth pairings, VPN settings, and WiFi passwords, and will need to set up this information again.
iOS 15 or higher: Settings > General > Transfer or Reset iPhone > Reset > Reset Network Settings
iOS 14: Settings > General > Reset > Reset Network Settings
Complete the authentication prompt and allow your phone or tablet to reset the network settings.
If your phone doesn't automatically restart when the reset is complete, manually restart your phone.
Reconnect to your WiFi or hotspot and reconnect to your AirPods.
Turn Bluetooth Off and On Again
Some users have found that turning their Bluetooth setting off and on resolves connectivity issues with AirPods.
To restart your Bluetooth, simply open the control center by swiping down from the top of your screen and clicking the Bluetooth icon to disable it. Wait several seconds, and then start Bluetooth again. Reconnect your AirPods and test whether the issue is resolved.
Disable Automatic Ear Detection
Adjusting the settings of your AirPods can also sometimes resolve issues with music not playing through the earbuds. You can navigate your settings to disable automatic detection with just a few simple steps.
Settings > Bluetooth > AirPods
Scroll to find Automatic Ear Detection and disable the setting using the toggle.
Disable Music Volume Limit
In some cases, users have found that their AirPods sound will play at unreasonably quiet levels. Poorly adjusted music volume limit settings can result in quiet audio output. Luckily, this issue is easy to fix.
Settings > Sounds and Haptics > Headphone Safety
Find Reduce Loud Sounds and disable the settings toggle.
---
What To Do If Nothing Is Working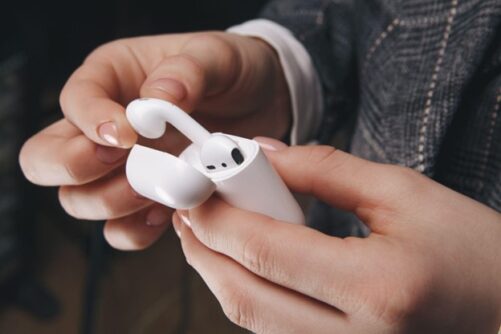 Unfortunately, while the above troubleshooting methods effectively resolve most issues with AirPods not playing audio, some users still find their issues unresolved. In these cases, the malfunctioning behavior is likely due to a more serious problem with your paired device or the AirPods.
Factory resetting your phone can provide a resolution in some instances. Still, if the hardware of the AirPods is malfunctioning, you will need to contact Apple Support to fix your AirPods.
Factory Reset Your Phone
While the process does take some time to complete, factory resetting your iPhone is a safe troubleshooting method that can resolve critical malfunctioning.
It's important to note that you will lose all configurations on your phone, including your settings and personal files. You should back up your data to iCloud to ensure that restoring the data is as simple as logging in to your Apple account.
*Before factory resetting your phone, try pairing your Airpods with someone else's phone. If the Airpods still don't play audio, then you know the problem is caused by the earbuds rather than the phone. In this case, you can save the headache of needlessly resetting your phone.
You can factory reset your phone with the following steps.
Settings > [Your User Name] > iCloud > iCloud Backup > Backup Now
Wait for the backup to complete. You should be certain that you remember the credentials to your Apple account and will be able to access it after the factory reset. If not, you should change your email and/or password to ensure that you can log in.
After the backup has been completed, you're ready to factory reset your iPhone.
Settings > General > Reset > Erase All Content and Settings
You should be certain that all of your data is backed up and that you will be able to log into your Apple account. If you have any other information you want to save, like a tab in your browser, you should save the information to another device before confirming. Once you know you're ready, confirm the prompt to erase all content and settings.
Wait for your device to complete the reset. Once your phone has powered on, you can reconnect your AirPods to see if the issue is resolved.
Contact Apple Support
If none of the above troubleshooting methods have resolved the issue with your AirPods, there is most likely a critical issue with the AirPods themselves.
You can test this by attempting to connect another pair of Bluetooth earbuds or headphones to your device and attempting to join the AirPods to another device. If the other pair of Bluetooth earbuds or headphones work, but your AirPods don't, you can be confident that the issue is with the AirPods.
You can contact Apple Support or visit your local Apple store to request maintenance and repair. You can check your warranty status here to see if the repair will be covered.
---
Final Thoughts
When you're having issues with your AirPods not playing audio, it can completely kill the mood of your workout or relaxation. After all, no one wants to have to listen to their music through their iPhone speakers when they've bought top-of-the-line headphones!
And without apparent fixes, it can quickly feel overwhelming. With the above troubleshooting methods, you should be able to resolve most causes of AirPods not playing audio. Good luck!